Shaft
Shaft
The total load on the roller is borne by the shaft which must sustain the entire weight. Damon has chosen to adopt high quality carbon structural steel as the shaft material which has an increased hardness and conforms to GB/T 905 requirements.
SHAFT SIZE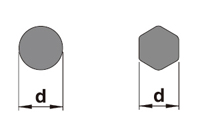 Round shaft (mm):
d: Ø6, Ø8, Ø10, Ø12, Ø15, Ø17, Ø20, Ø25
Hexagonal shaft (mm):
d: 11 hex
SURFACE TREATMENT
The standard shaft surface treatment is antirust oil. Zinc plated shafts are only used in stainless steel or PVC rollers.
INSTALLATION METHOD
The roller installation method determines the complexity of roller assembly. Different installation methods also influence the load capacity of the roller.
Following are examples of common installation methods and their features. Installation method can be customized.
Spring Loaded:
This is the most popular installation method for gravity rollers. Assembly and disassembly are simple and quick.
Installation clearance is required between the inner width of the frame and the roller. Different clearances are required for different roller diameters, shaft diameters and height of roller. Typically allow 0.5 ~ 1mm gap each side.
Cross braces are required between the frames to stabilize and reinforce the conveyor.
The spring loaded installation method is not recommended for sprocket rollers.
Internal Thread:
This is the typical installation method for sprocket rollers. The roller is fastened to the frame with a bolt on each end.
Assembly and disassembly are more time consuming.
Bolt hole clearance in the frame should not be too large. Typically, the clearance should be 0.5mm. For example, for an M8 bolt the recommended mounting hole is Ø 8.5mm.
When using an aluminium frame, the shaft should be of a large diameter with a small diameter fixing bolt to reduce the risk of the shaft breaking through the aluminium frame.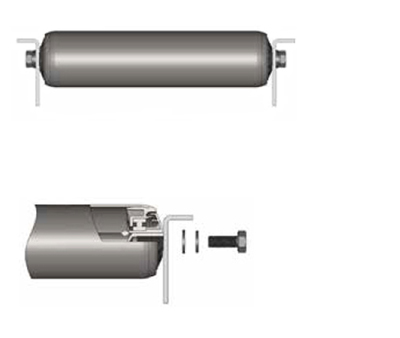 External Thread:

Note: Nuts are required on the inside and outside of the frame to ensure the roller runs smoothly.
Flat Milling:
Originating from the mining idler roller, the round end of the roller shaft is machined flat to fit into a slot in the frame. Assembly and disassembly is very easy.
Flat milling shaft type rollers are not suitable for sprocket rollers, poly-vee rollers or other driven roller applications.

Pressed Semicircle (D shape):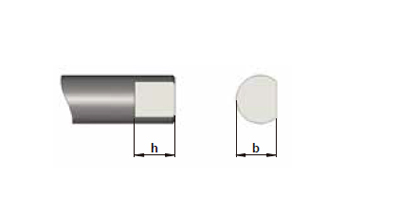 Pin Hole: