Tube Surface Treatment
Tube Surface Treatment
ZINC PLATED
Forms a homogeneous, compact, well combined zinc coating through electrolysis. Compared with other metal, zinc is economic and easy to be coated. Corrosion prevention plating allows zinc to be used widely in the area of steel parts protection, especially in preventing oxide etch and is a common surface treatment for conveyor rollers.
Trivalent chromium blue white zinc plated, conforms to green environmental standards.
The acceptable thickness of the zinc layer for rollers is 8-12 μm.
Special sealing ensures our zinc plating is much more rust resistant than commonly available tube which has been proven in the salt spray tests (As pictured).
Zinc plating does not have strong resistance to abrasion. It will wear gradually during operation. If required, you can choose hard chrome plating or other surface treatments.
When rollers are shipped by sea, special packing for shipment is still needed.
Food is not permitted to come in direct contact with zinc plated surfaces.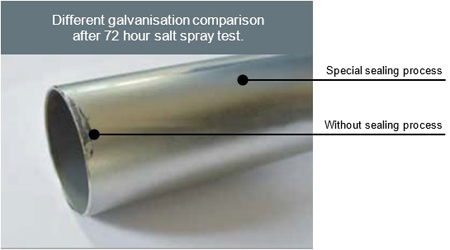 HARD CHROME PLATING
Thick chrome plating (above 20 μm) is formed on the surface of the component to improve the performance of the component with regards to hardness, abrasion resistance, temperature resistance and corrosion resistance.
Excellent abrasion resistance, as high as 1200HV hardness value.
The coefficient of sliding friction is only 50% compared to steel and iron.
Slight oxidation of the chrome layer leads to surface passivation, a thin and transparent film. After long periods of exposure at room temperature the passivation film causes discolouration and forms a protective layer for the chrome finish.
The chrome layer is brittle and is not suitable for bearing any large distortion which may cause breakage or spalling of the chrome layer.
RUBBER LAGGING
For effectively improving conveying efficiency, eliminating slip such as specified area acceleration, small inclines, etc., we need to add friction between the contact surfaces. Rubber lagging is the most commonly used method. It may also provide protection to the conveyed surface of the product and reduce the conveying noise.
Natural Rubber:
High elasticity under room temperature.
Good mechanical hardness, small loss on lag.
Good electrical insulation properties.
Alkali resistant. No resistance to strong acids.
Low resistance to oil and solvent.
Nitrile Butadiene Rubber (NBR):
Excellent resistance to oil.

Good abrasion and heat resistance.

Low elasticity.

Poor cold and ozone resistance.

Low electrical insulation properties.
PVC SLEEVE
As an alternative to traditional rubber lagging, you may select PVC sleeving which combine most of the properties of rubber lagging. The PVC sleeve has similar properties to rubber lagging in the areas of increased friction, bottom surface protection and reduced noise. It has a short lead time and is cost effective.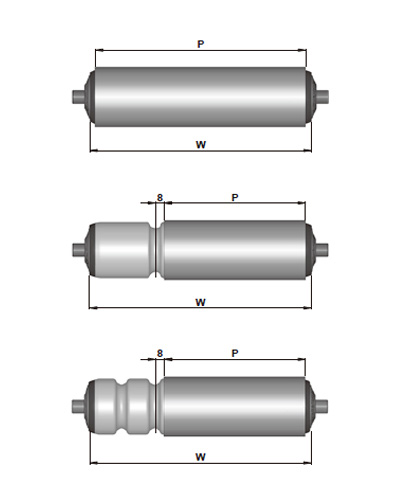 Typically, the sleeve covers the roller's outside surface (As pictured).
If you only require a portion of roller to be covered, please confirm the length of PVC sleeve (Min. 50mm) and the position.
Where running the roller generates axial force, e.g. axial movement or axial push and pull, the length of PVC elastic sleeve should be increased.
We recommend that the side of the roller with a groove should not be covered with a sleeve (As pictured).